As you may have noticed we've got some growth going on around the country. We have always managed Terminal List on the portal which can be used to get access to contact details, but today we are rolling this feature into our mobile app. You will find this new feature located under Terminals in the App Menu.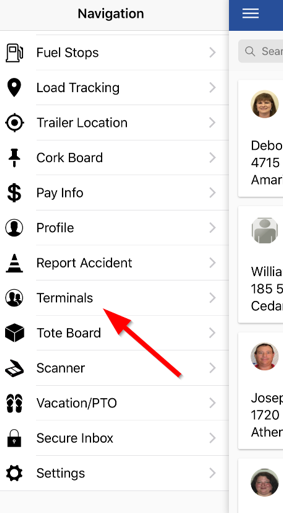 Once the page opens you will see a listing of terminals that you can search by name, manager name, city name and Terminal Number. You will then notice that there is a blue button with options for contact. Tapping this blue button will bring up a list of options for contact – generally Call Location, Email Location, Call Manager, Text Manager, Email Manager. 
I am a Manager and my photo needs to be updated - how do I fix?
If you notice that as a manger your photo is missing you can quickly remedy this by going to the contact section of the app, locating your employee code and clicking the Green Upload Photo button. Once Recruiting reviews the photo it will automatically update in the app. 
I am a Manager and my phone number is wrong - how do I fix?
If you notice your cell phone number is not known you can quickly remedy this as well by using the app and selecting Profile from the menu. In the page that opens you have the ability to manage your contact details.
Who can access this?
This is not a tool provisioned for drivers presently – its provisioned for dispatch and other "office" staff team members to reach other dispatch and office staff around the country.
Questions
You can always reach us at support@firstfleetinc.com for assistance.