Using Fuel Network App Functions
The FirstFleet Mobile App has functionality included to help you identify authorized fuel stops in your local proximity. This feature is designed to help maximize your time by helping ensure you stop only at authorized locations. Below you will see a summary video and screenshots of the functionality of the tool showing local stops and the details of a specific stop.
Using Truck Stop Apps
Did you know that many of our national truck stop chains provide quick and easy to use apps that include functionality such as starting the pump before you get out of your truck? Here is a handy article to get you started.
Summary Video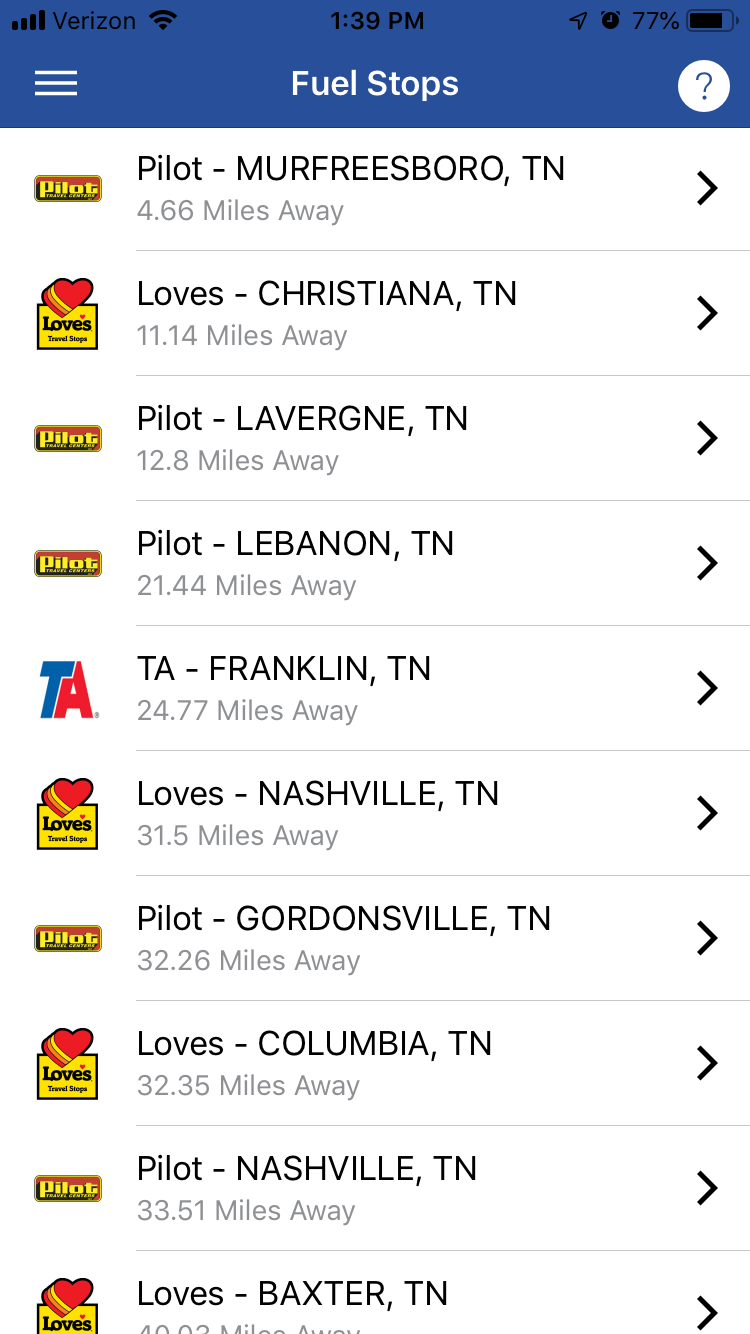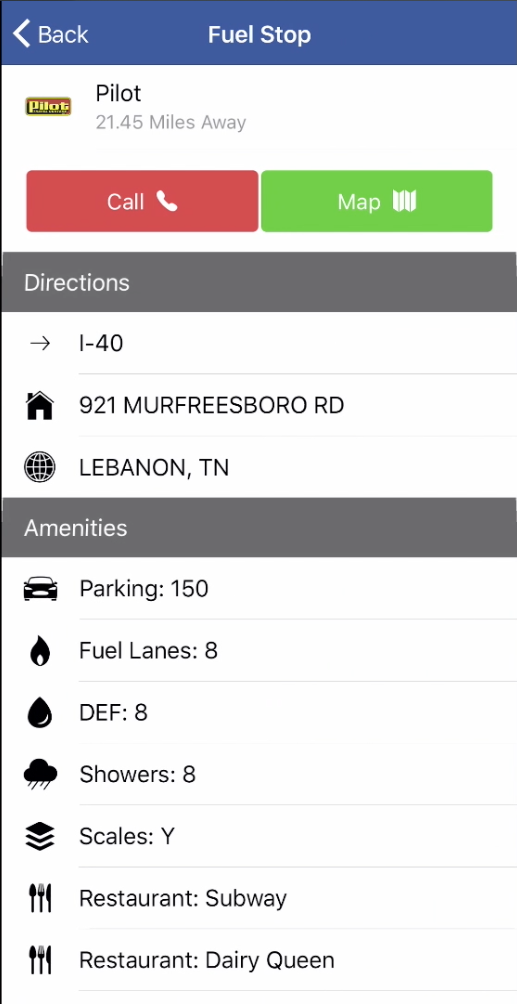 Using EFS Fuel Cards
FirstFleet has elected EFS as our fuel payment solution. All company drivers should have an EFS card assigned to them by their hiring manager at the time of orientation. The fuel card will be activated and ready to use immediately at your orientation. The details below are intended to help point you in the right direction for questions you may have about your fuel card or the process.
What if I lose or damage my card?
If you lose or damage your card just check in with your manager at your home terminal and he or she will be able to remove your old card and assign you a new one very quickly.
Can I use the card anywhere?
Your fuel card will work at any fueling location that accepts EFS cards. However, in order to control costs it is very important that you fuel the majority of your fuel at an authorized stop location. It is possible to use your card out of network, but you will be limited to 49 gallons maximum per day if you are purchasing out of network.
How can I see authorized stops?
Using the FirstFleet Mobile App all drivers have access to our full fuel network and can readily search and locate lots of helpful information about authorized stops within their local proximity.
Can I request a truckstop be added as authorized?
In some cases we miss out on knowledge of a stop which needs to be authorized. If you find a location that needs to be added as an authorized stop we encourage you to please contact your Fleet Manager so that the request can be properly evaluated.
What are the product limits on my card?
Every card has limits configured by product code. It is really important that the proper product codes are used at checkout and it is important to understand these limits cannot be bypassed. Listed below you will see the limits by product code.
| | | |
| --- | --- | --- |
| Products Allowed | EFS CODE | Limits |
| Diesel (Network stops) | ULSD | |
| Diesel (Non-Network stops) | ULSD | 49 Gal |
| Reefer Fuel | DEF | 50 Gal |
| DEF | DEF | 20 Gal |
| | | |
| Parking | PARK | $65 |
| IdleAire Parking | IDLE | $65 |
| Antifreeze/Coolant | ANFR | $30 |
| Oil | OIL | $50 |
| Scales | SCLE | $30 |
| Windshield Washer Fluid | WWFL | $30 |
| Additives | ADD | $30 |

What if a driver fuels out of network early in the day?
Fueling limits for out of network purchases on EFS Cards are limited to 150 gallons per day, in network fuel purchases are limited at 350 gallons per day, reset every night at midnight.
If a driver fuels 100 gallons at an out of network stop then goes to an in-network stop, the driver will have 250 gallons available at the in network stops for the rest of the day.
If the driver fuels 100 gallons in network and then goes to fuel 100 gallons out of network in the same day, the out of network limit will cause the transaction to fail as a result of going over the 150-gallon limit for out of network fueling.